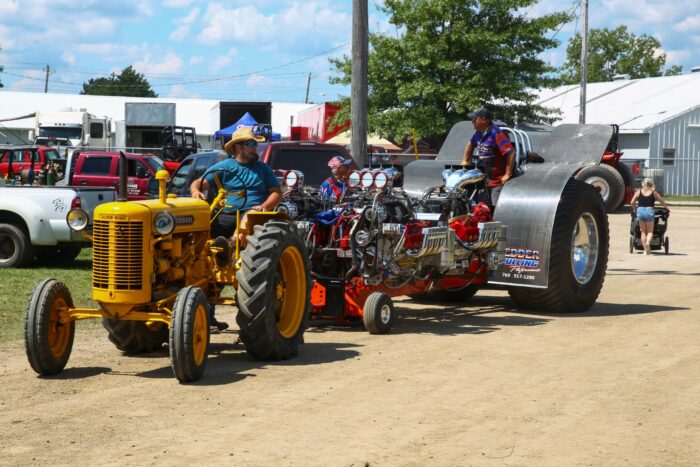 The Northwestern Ohio Tractor Pullers Assoc. would like to take this opportunity to thank our many sponsors for their time and dedication to the 2022 National Tractor Pulling Championships. It takes the involvement and dedication of many diverse organizations to make this prestigious truck and tractor pull in the world possible.
Ace Doran Hauling & Rigging – whatever the challenge Ace Doran has the equipment and experts to worry-free execution. Check them out at their booth on the Midway or at acedoran.com.
Ag-Pro – Ag-Pro has been very instrumental in assisting the Blue Shirts with track equipment for the National Tractor Pulling Championships. They have also been a long-standing sponsor of the event.
Angry Farmer – From the farm to your garage, Angry Farmer Multi-Purpose Spray is tried and true.  Angry Farmer quickly busts loose rusted parts caused by rust and corrosion.  The lubricant saves time and your equipment and protects against any future rust and corrosion.
Bad Dog Tools – Less bark and more bite! Developing new tools is at the heart of what they do at Bad Dog Tools. You can shop and learn more by visiting their website www.baddogtools.com.
Bad Gear – Bad Gear the nation's premiere diesel apparel company. Our unique and patriotic designs make a perfect addition to you or your loved one's wardrobe. Visit their "Bad Collection" at www.bad-gear.com.
Beer Money Pulling Team – Beer Money Pulling Team has grown to be the largest social media group in the tractor pulling world. With over 780,000 followers and a reach of over 15 million people per month, you know they are pulling for you! Learn more about them at www.beermoneypullingteam.com.
Blue Coolers – At Blue Coolers we believe best-in-class quality does not have to be tied to high prices.  As such, Blue Coolers provide high quality 10-Day ice at half the price of the competition.  Blue Coolers were selected in 2018 as an additional trophy to the ring winners of each class.  Look at what they have to offer at www.bluecoolers.com
Callies Performance Products – Callies Performance Products began manufacturing high performance crankshafts in 1989. Callies has grown to be the industry leader for innovative product design. For more details check them out at www.callies.com.
Hook & Drag – Hook & Drag is your outdoor gear for outdoor people. Check them out at their booth located on the Midway.
Kroger – The Kroger stores have offered the National Tractor Pulling Championships General Admission Tickets for sale at over 30 different locations in Northwest Ohio and Southeast Michigan for many years. Shop Kroger for all your tractor pull needs.
MAGNA Vehtek Systems – Magna Vehtek Systems, a division of the largest North America auto supplier, is growing again. Look for career opportunities at www.magna.com/vehtek
MAHLE Aftermarket Inc. – MAHLE is a leading international development partner and supplier to the automotive industry as well as a pioneer and technology driver for the mobility of the future. To see more of their products, service, research and development visit them at www.mahle.com.
Nachurs Alpine – Nachurs Alpine built on quality, integrity, and innovation, we pioneered precision-placed liquid fertilizer in 1946 – formulated to meet the nutritional demands of crops and growing conditions on both sides of the border.
Redline Case IH – Case IH has partnered up with N.T.P.A. in sponsoring tractor pulling at its best. They have been an invaluable part of the National Tractor Pulling Championships, not only supplying the Blue Shirts with track equipment, but also sponsoring the event.
Summit Racing – Summit Racing parts for your passion. We all have a passion for the BG Tractor Pulls. Check Summit Racing out today at summitracing.com.
University of Northwest Ohio – The University of Northwest Ohio has been a sponsor for many years. Their presence is seen on the track and in the Trade Show. They invite the National Tractor Pulling Championships to their annual "Tractor Trouble Shoot" as honored guests.
Valley Freightliner of Toledo – Valley Freightliner of Toledo your full line Freightliner and Western Star Dealer. Covering your big rig needs from new to part and service. Check out their website www.toledofreightliner.com.