THE 55TH NATIONAL TRACTOR PULLING CHAMPIONSHIPS

Thursday, Friday & Saturday

August18, 19 & 20, 2022

Location

Northwestern Ohio Tractor Pullers, Inc
1150 Haskins Road, P.O. Box 401, Bowling Green, Ohio 43402

National Tractor Pulling Championships
13800 W Poe Rd, Bowling Green, OH 43402

PH:  419-354-1434 or toll free 888-385-7855
get directions
Pulltown Newsflash
Pulltown Newsflash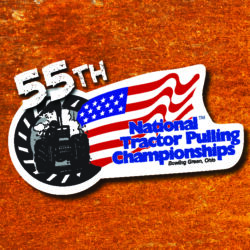 IT'S PULL WEEK……ARE YOU READY?
OFFICE TICKET SALES ARE CLOSED.  ONLINE TICKET SALES WILL CLOSE AT MIDNIGHT, SUNDAY AUGUST 14TH.  GATE TICKETS CAN BE PURCHSED AT THE GATES BEGINNING THURSDAY AUGUST 18TH AT NOON OR AT ANY PARTICIPATING KROGER STORE.
SPECIAL EVENTS THIS YEAR:  THURSDAY WATCH THE LEGENDS PULL AFTER THE COMPLETION OF SESSION I.  SEE FIRST HAND HOW THESE POWERFUL MACHINES HAVE CHANGED OVER THE YEARS.  ALL LEGENDS PARTICPATING THIS YEAR ONCE COMPETED AT THE NTPC.
THURSDAY NIGHT IS ALSO FAMILY AND VETERAN NIGHT.
SATURDAY IS OUR ANNUAL MAKE-A-WISH AUCTION.  WE ARE PROUD OF OUR HISTORY WITH THIS ORGANIZATION AND ALL THE GREAT THINGS WE HAVE DONE FOR OUR MAKE-A-WISH KIDS AND THEIR FAMILIES.  THANK YOU TO EACH OF YOU WHO HAVE CONTRIBUTED IN ANY WAY…..
IT WON'T BE LONG BEFORE YOU FEEL THE EARTH MOVE AND SMELL THE FUEL.  SEE  YOU SOON!!!
Bowling Green Hotels
Bowling Green Hotels
Click on this link to be connected to
Contact Us
Contact Us
Phone
419-354-1434 or 888-385-7855
Fax
419-354-7855
Email
info@pulltown.com
Mail
P.O. Box 401, Bowling Green, Ohio 43402

Meet The Directors
MEET THE DIRECTORS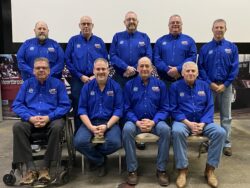 Left to right bottom row Mike Hall, Dave Schultz, Mike Erford, Donald Schaller. Back row Lenny Talmage, Dennis Tabor, Russell Gibson, Jim Ault and Keith Seiler 
            Secretary Mike Erford             Vice President Donald Schaller
MErford@pulltown.com           DSchaller@pulltown.com
Treasurer Mike Hall         President Dave Schultz
MHall@pulltown.com         Dschultz@pulltown.com
Visit out Pulltown Sponsors by clicking their links below

History
The NTPC is promoted by the Northwestern Ohio Tractor Pullers Association (NWOTPA), the veritable backbone of the championships. The NWOTPA was chartered as the Wood County Tractor Pullers in the spring of 1962. There were approximately 20 members, all residents of Wood County, Ohio. In August of 1962 the first speed pull was introduced at the Wood County Fairgrounds. A special long flat bottom sled was built that was designed for men to step on as it went by. Men were lined up on both sides of the track and stepped on the sled as it went by. The tractor that pulled the farthest was declared the winner. Many problems occurred with this type of pulling, specifically men leaving the track during the event and the tractors going too fast for men to step on.
Read More